The Amazing Halloween Costume's Pulled Off by the Internet's Most Famous Pets
Home » Blog » Halloween's Hottest Trends, Little Ghost & Ghouls Corner , Scary-Good DIY Ideas, Halloween Headlines
November 6, 2017 By Cait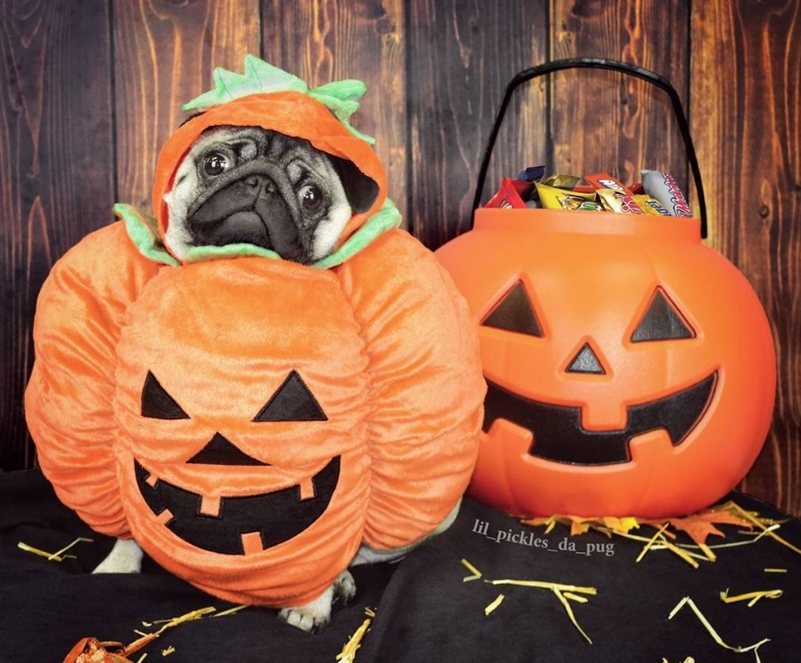 Pickles doesn't seem as enthusiastic as his owners are about this adorable Halloween look.
Photo by:
LilPicklesDaPug, via Instagram.
Now that Halloween's over, it's time to check out all of the best Halloween costumes that people - and pets - pulled off this holiday! If you're an Instagram junkie for a passion for pets, then you may already be familiar with some of these famous pets, but whether or not you're in the know, we all can agree - they sure did look cute this Halloween!
Here are some of our top Famous Pet Halloween Costumes for Halloween 2017
Shaq the Pug - This year, Shaq the pug, one of the coolest pups on the internet, went as none other than Spock for Halloween, including donning a doggy wig, and his own special take on Spock ears - adorable!
Manny the Frenchie - Manny pulled off a ton of looks this Halloween - dinosaur, skunk, and our favorite, Peacock! All of his looks were super cute, but this one we thought was downright precious.
Toast the King Charles - Toast and his pal Muppet dressed up as a Taco (Toast), and Belle from Beauty & the Beast (Muppet). Together, they form none other than Taco Belle (get it?!)
Jiffy the Pomeranian - Jiffy, the pomeranian famous for looking more like a stuffed animal than a dog, decided to be serious this Halloween, and up his macho cred by going as a viking!
Lil Pickles the Pug - Ok, so Pickles also had a variety of looks this Halloween, and this one is by far our favorite. Not neccessarily because of the costume itself, but because of Pickles' hilarious facial expression as he sits dressed up as a pumpkin, next to a trick or treat bucket filled to the brim with goodies. This one is sure to give you a good laugh.
Did You Dress Your Pet Up for Halloween This Year? Let Us Know in the Comments Below!