Give Back This Halloween with Operation Gratitutde: Share Some of Your Halloween Candy Haul with Troops Over Seas!
Home » Blog » Orlando's Local Halloween Fun Guide, Halloween's Hottest Trends, Little Ghost & Ghouls Corner , Halloween Headlines
October 30, 2017 By Cait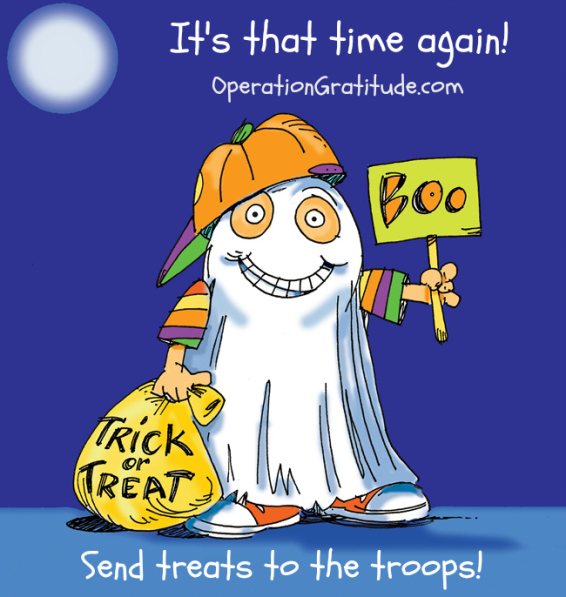 Share some of your sweet treats with American troops overseas by donating candy to Operations Gratitude!
Photo by:
Operation Gratitude.
Halloween is here, and you know what that means - candy. Lots of it. Are you going to eat A LOT of that candy, sure, probably, but are you going to eat ALL of it? No, probably not.

That's where Operation Gratitude comes in - they collect Halloween candy to send in care packages to American troops overseas - not only are you supporting American soldiers by sending them a piece of home, but you're also reducing on Halloween-related waste, and putting that excess candy to good use.
Last year, Operation Gratitude collected over 533,891 pounds of Halloween Candy, and they're looking to break last year's record this year, and they need your help!
If you represent a school, club, company, or organization that would like to participate hosting a Candy Collection Drive for Operation Gratitude, click here for more information, and to sign up to be a designated candy drop-off point (you can also choose to remain a private Candy Collection Event, if you'd like).
Looking to give back, and share some of your sweet treats with the troops? Click here to check out Operation Gratitude's Interactive Candy Drop Off Map to find the closest Candy Drop Off Site in your neighborhood.
Sharing your Halloween Candy might not seem like much, but a care package full of sweet treats is sure to brighten the day of our soldiers over seas, while giving them a little taste of home.
This Halloween, while you're enjoying the holiday, and taking the time to dig into some sweet treats, why not set some aside for American Heroes, and help Operation Gratitude reach their goal of breaking last year's record?